Custom Protective Packaging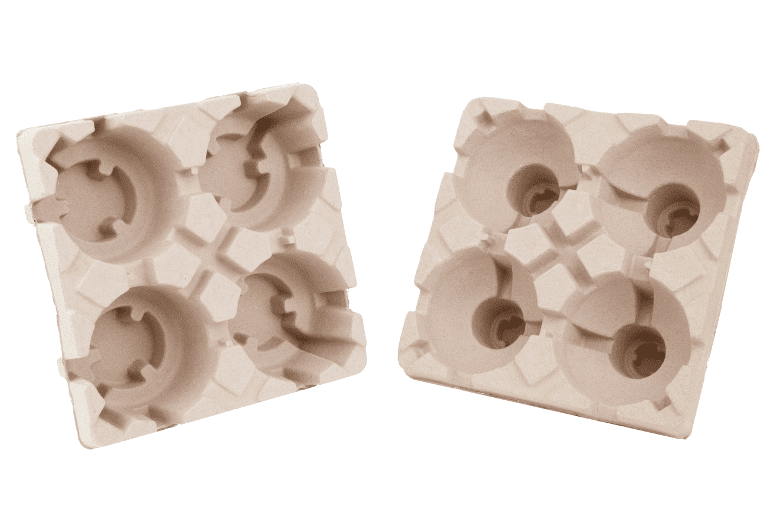 Protective End Caps, Trays and Clamshells
Protective Packaging Development Process
At SPI, we specialize in designing and producing molded pulp packaging that meets your unique requirements. Whether you need a specific size, shape, or raw material for your packaging, we can work with you to create a customized solution. Throughout the development process, our team will collaborate closely with you to determine the best options for your particular needs.
Concept Development:  What are your packaging goals, including functional, aesthetic and environmental?
Schedule:  When do you need the first delivery?
Order Volume: How many units do you need per month? per year?
Design: We will provide 3-D technical drawings & prototypes for review and approval.
Production: We will manufacture to your specifications and work with you to develop a delivery schedule that works for your business needs.
Special Needs: Do you have any other requirements that we should know about?
Order Minimum & Lead Time
Minimum Order: Starting at 30,000 units (some flexibility depending on the project scope)
Lead Time: 12-14 weeks from design approval
Set-Up & Tooling Fees: Contact SPI for pricing
Benefits of Pulp Packaging
Molded pulp packaging offers a wide range of benefits compared to traditional plastic and EPS (Styrofoam) packaging.
Environmental
100% post-industrial raw materials
Chemical-free pulping process
Open air drying (70% of the time)
No waste water — all water evaporates or is reused in the pulping process
Zero manufacturing waste – all scraps are returned to the pulp slurry
Final packaging is 100% recyclable
Performance
Excellent bracing, blocking and cushioning protection
Unaffected by extreme temperatures
Water resistant
Electrically neutral
Economic
Inexpensive and stable raw material sources
Affordable new development costs
Designed to nest for reduced shipping and storage costs
Formed to shape –- no assembly required