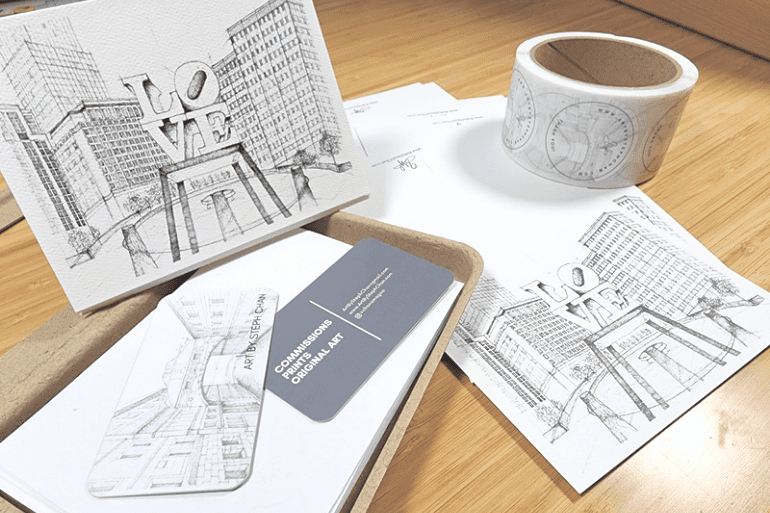 Hand Drawn Greeting Card Set –
Stephanie Chan is a Philly-based artist that specializes in black pen architectural renderings. Stephanie always had a natural affinity for art. In July of 2022, she found herself turning to art to heal and calm her anxiety. Drawing for her is a truly immersive experience, Stephanie says,  "when I pick up the pen, all the ruminating thoughts that spin through my head just…quiet ". At the urging of her sister, she began turning some of her more well-received pieces into a greeting card set, the first of which, and still the most popular, Love Park, Philadelphia. She has since expanded this collection to include a variety pack that includes four beloved Philly landmarks.
When it came to developing the packaging for these cards, Stephanie was immediately turned off by the amount of plastic involved with traditional greeting card packaging and set out on a search for an environmentally friendly option that also aligned with her aesthetic. She found that our GreenKraft A2 clamshells allow the art to be showcased through the window. Her cards are printed on heavyweight, textured paper and the opening allows potential customers to experience the paper quality of my product.
Stephanie packages her cards in quantities of 8 for the variety pack or 10 for the Love Park cards. Each package contains the cards, envelopes, and her business card. Each package is sealed with a custom Art By Steph Chan sticker. Stephanie describes the process as " a labor of love" as she hand-stamps each individual card with her logo and packages all of her inventory on her own. The compliments on how unique the presentation is – makes the effort all worth it.