Infini-T Cafe & Tea Leaf Market –
Infini-T Cafe, purveyors of fine tea, coffee, spices and gift sets from across the globe is committed to finding unique teas grown under sustainable working conditions. Stop in their coffee bar and tea house located in Princeton, NJ or visit them online at www.infini-tcafe.com.
Infini-T Cafe uses our medium GK-004 clamshell with an internal food grade bag for their loose leaf teas. The gift set ( glass tea cup, tea bags and loose tea) is packaged in our large GK-006 clamshell and secured with a raffia ribbon tie.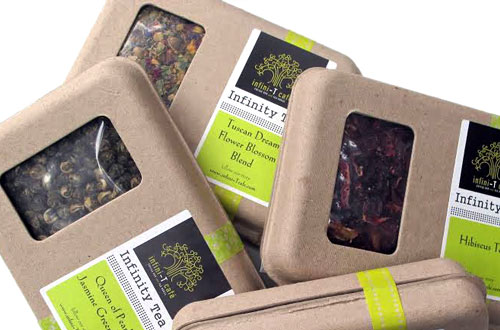 Packaging Materials
GreenKraft Clamshells (GK-004 & GK-006)
Custom Printed Labels
Raffia Ribbon Ties
Food Grade Plastic Bags